Effective Date: November, 11 2015
Difficulty: Entry Level
Type of Op: Aggressive
Mission Statement:
In the age of rapid consumerism, repetition, and government warmongering there are always those caught in the crossfire. At some point you could very well wind up in that crossfire or in simpler terms: homeless. Certain religious organizations believe that faith and hope protect the people of this world, but at the end of the day it is a person that hands a starving child a bowl of rice, the cold a coat, blanket and a hot meal. Everyone's story is different as to how they got where they are. Even though attention should be given to hear their story, it is not where you've been that is relevant, it is where you are going. You don't walk backwards through life, you walk forward. There is some, but little need to look behind you as you move forward from life's struggles. If you kept your eyes open, then you would have known very well, what was there and where you were going. In the interest of moving forward, we bring to you #OpSafeWinter. Certain governments frown upon helping their discarded and unwanted, we do not. We believe that human life matters. Empathy matters. Standing in unison matters. The cold, starving and homeless matter.
Project Outline:
Together we can accomplish a lot, however, this op (operation) is most likely going to be one you can organize and exhibit in your area. This is a hands on op and you will need to be physically involved in your area for this to be effective. Using your social media networks and other mediums, you can reach out to friends and family telling them that you're looking for resources. We advise you to come up with a personalized mission statement rather than to admit your ties to Anonymous, due to the logging that is done within said social media environments and other administrative forces. If you know a place where you can set up a drop box/bin (or use a small building that people can bring things into, in a public area, with permission i.e a shed) this would be a great environment to rapidly gather resources in a timely manner.
We wish to see things done of "your" effort. Resist in using materials from other donation based systems that are already in place (i.e churches or other homeless systems/shelters currently active) but you CAN use them for collecting information. Those organizations have already donated as much as they can. This is an Anonymous effort, we use our OWN resources. With that being said, giving your resources to these organizations so they can distribute them to where they need to go is an alternative "IF" you can verify the organizations are legitimate and actually helping who they say they help. Otherwise, you can opt to distribute items yourself through one-on-one encounters, but be very cautious in doing so. Not all homeless are friendly and not all homeless are trusting. Protect yourself. Some areas have illegalized the act to help the homeless. As such, please contact the appropriate governing bodies within your area to answer that information. We can collect and provide some information through this operation, but you are responsible for your actions.
Stages of Operation:
STAGE 1:
Resource Gathering:
You can easily enough, set up your home as a drop box for people you have spread information to within your own social media networks to procure resources. Also building drop box sites can be done if your materials for making these shed like units and or have connections, or can can create connections with business owners to let you set one up outside their business. which ever you choose you will need a basic list to hand out to people telling them what items you are looking for:
- Food (canned foods, dehydrated goods, bottled water, think shelf life and think objects easily stored in a winter environment, exclude items dependent on room temperatures)
- Can openers (preferably small)
- Backpacks
- Trash bags (heavy duty) (various uses to the homeless, ponchos, tarps, carry all)
- Books (even the homeless need something to take their mind off their current situation in life as a coping mechanism)
- Hand warmers
- Thermal underwear
- Basic underwear
- Warm coats, pants and shoes
- Long sleeve shirts
- Thick socks (wool or thermal) and objects geared at keeping feet dry
- Shake flashlights or hand cranking flashlights (battery operated are useless in winter)
- Hats, scarves and gloves (preferably wool or polyester wicking/fleece)
- Zero degree sleeping bags
Most of this stuff is small and can be put into a normal carry bag or backpack and can be given to a homeless person once you run into them.
We would, at this time, prefer to stay away from risk items.
This would include things like:
- Knives/utility knives: You do not know if it would be used for defence or offence. It would cause more issues than it would solve.
- Medications (Both prescribed and non-prescription): Even though the homeless get sick, we can easily see this getting abused.
- And any other item that can or may cause harm internally or externally.
STAGE 2:
Zoning: Your area(s) of attack.
Pick an area you have physical access to and research it. Contact that area's appropriate governing body and ask about the laws for helping the homeless.
Pick heavily populated areas, where homeless people usually are. If you know of a homeless person that is not in a populated area, you can choose to assist them instead/as well. You can at this time opt to investigate what the area(s) already offer to the homeless and put together an information packet for homeless people to read.
The Information Packet can include but is not limited to questions such as:
- Are there free bathing areas? Hot meals? Shelter? Pro-bona doctors? Pro-bona dentists? Pro-bona optical care?
- Are there places to go for more resources like free clothing? Free food?
- Are there places that assist the homeless to get out of their rut and assist with job seeking?
Include anything you can put together in a packet of information that would give them hope for a better future. In large areas you can use gas stations, supermarkets, fast food restaurants, etc as markers to help a person find the location of a service.
Take that packet of information and place it with your gathered resources and from here choose your level of involvement. You can either distribute these resources yourself via one-to-one interaction or you can donate your materials to an organization that does. (Always verify the organization.)
STAGE 3:
Self Distribution:
Most of the materials can easily fit inside a backpack or bags. Make many 'care' packages and don't forget the information packet.
Bring protection with you, either friends willing to help or if you're going alone bring something for protection within the confines of the law in your area.
Not all homeless are nice, not all homeless are trusting.
Respect the situation they are in and always be aware of your surroundings.
Organization Distribution:
This research will differ in a zone to zone basis.
ALWAYS make sure the organization(s) do the things they claim to do. In the USA there are websites such as www.bbb.org that keep business' in check. BBB is a place people can go to rate and find ratings on these organizations.
Look up any website like BBB that exists in your area.
Once you have verified with them, call them and tell them you have care packages you wish to drop off for them to distribute to the homeless.
We only ask one thing from you if you decide to go this route. Do at least ONE personal one-to-one distribution to a homeless person.
Anonymous isn't a dinky group any more. If we can get people we know to do ONE one-to-one distribution with a homeless person, we will help a lot of people.
STAGE 4:
Anonymity with photographs:
If you opt to take and publish pictures/videos in full Anonware to show your support of the operation, that is your choice.
Before uploading, strip your EXIF data from the pictures (searchable) and use the hashtag #OpSafeWinter on places such as Twitter.
Nothing wrong with getting the word out, but retain focus. This is about helping the homeless not your own personal glory.
(If you do not wish to affiliate yourself with Anonymous/this operation, use the inconspicuous hashtag #LegalizeTheHomeless )
//End of Operation Stages.//
Closing Statement:
Don't bite off more than you can chew. Remember quality over quantity. This is a general guideline to get you thinking about ideas for your area. If you personally only help out one homeless person, that's wonderful. /tips hat and gives a most courteous bow.
This is only to give you ideas on how to help vs your choice of personal level of involvement. Help one, help many, the choice is yours, do what you can.
Action will change the course of this planet.
That action, is us.
#OpSafeWinter #LegalizeTheHomeless
Remember,
We are Anonymous.
We are Legion.
We do not forgive.
We do not forget.
Expect us.
Resources:
http://pastebin.com/search?cx=013305635491195529773%3A0ufpuq-fpt0&cof=FORID%3A10&ie=UTF-8&q=opsafewinter&sa.x=0&sa.y=0
http://www.opsafewinter.com/
https://twitter.com/OPSafeWinter
https://www.facebook.com/anonymousopsafewinter
http://www.nationalhomeless.org/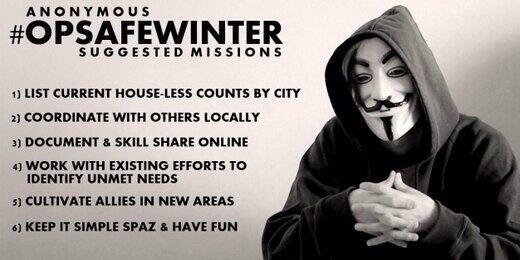 http://pastebin.com/A0pc5rsJ